Click Here To Read The Top Team-Sports Highlights Of 2005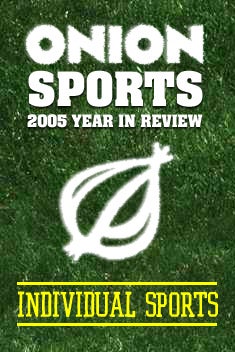 Less popular, less social, and far, far less lucrative than the major team sports, individual achievement is still the competitive instinct boiled down to its essence. Yet 2005 proved that the nation's attention could still be drawn to the heroic and well-televised individual performance. Lance Armstrong, the gritty, determined, monotesticular cyclist, captivated America with his seventh Tour de France victory, although the nation later confessed that it did not watch the actual event. Mike Tyson demonstrated that it was still possible for him to somehow lose even more dignity. And NASCAR champion Tony Stewart proved once and for all that there was still a place for angry sons of bitches in stock-car racing, becoming the 44th nonconsecutive driver to do so. Yet not every victory was as well-celebrated, and not every great performance was in competition. With that in mind, Onion Sports lists this year's greatest moments in the individual sports.
Jan. 26—During the celebrity pro-am portion of the Bob Hope Chrysler Classic, David Duval shoots a 96 (+24), missing 92 percent of fairways and hitting into several bunkers and water hazards, intentionally prolonging the round by over an hour in an attempt to maximize his time spent with celebrity partner Bill Murray. On the especially embarrassing 18th hole, Duval misses eight consecutive puts during a last-ditch effort to get Murray to reprise his Nick The Lounge Singer character.
Feb. 19—Olympic swimming champion Michael Phelps comes out against flip-turns, calling them "disorienting" and "ultimately an annoyance." Phelps is issued a lifetime ban by the conservative, tradition-minded International Olympic Committee.
Mar. 15—Fencer Julia Leszko is ranked first in the nation in epée, earning the right to represent the U.S. at the Lisbon World Championships in August. The attractive and personable Leszko also earns the attention of several stalkers, a problem she resolves in a graceful, yet swashbuckling, fashion.
May 8—Vijay Singh wins the Wachovia Championship to little fanfare. Tournament organizers grudgingly invite him to Tiger Woods' gala 11th-place celebration dinner, sponsored by Buick and Nike and featuring a special guest performance by Beyonce Knowles.
May 29—Dan Wheldon wins the Indianapolis 500, but his victory is overshadowed by the fourth-place finish of IRL Rookie Of The Year Danica Patrick, only the fourth woman to compete in the race and the first ever to lead. Wheldon complains publicly that Patrick is only in the spotlight because she is a woman, but retracts the statement when race organizers point out that Ms. Patrick would be more interesting than the bland, bitter, British Wheldon if she were a 300-pound eunuch.
June 4—2005 World Series Of Poker champion Joseph Hachem, afraid that he is giving away too much with his expressive facial contortions, attributes his $1.4 million victory to the Ronald Reagan mask he wore through the entire three weeks of the competition.
June 11—A horse with a boring name wins a major racing event for the first time in history, when Mr. Fast beats out favorites Bound For Glory, Spirogyra, and Antagonist to win the Belmont Stakes.
July 21—Discus thrower Mark Bellinger perfects the "Boomerang Method" and dies shortly later of head trauma and extensive cranial blood loss.
Aug. 5—Tragedy strikes the skeet-shooting world when, while competing at the ESPN Outdoor Games, Olympic gold-medal winner Andrea Benelli's aging mother decides to rest for a moment on the skeet propeller's throwing arm, marring an otherwise phenomenal performance by Benelli, who flawlessly hits all "clays."
Sept. 24—13-year-old Wesley Sanders becomes the first child to win the National Arm Wrestling Championship, thanks to the Make-A-Wish Foundation.
Oct. 1—Every single player at the Professional Bowling Association's East Region Valley Open qualifies for the second round when bowling-alley operators forget to remove the bumpers following Timmy Gresler's 8th birthday party.
Nov. 19—Matt Austin, the No. 1 ranked bull rider in America, admits that his victory at the Calgary Frontier Days Rodeo—and every other major rodeo in which he had competed since 2001—is tainted because the "bull" he rode was in fact a childhood friend of Austin's, dressed in a bull costume and out of his mind on crystal meth.
Dec. 13—Power forward Ron Artest, formerly of the Indiana Pacers, announces his intention to play basketball all by himself for the rest of his career.