Click Here To Read The Top Individual-Sports Highlights Of 2005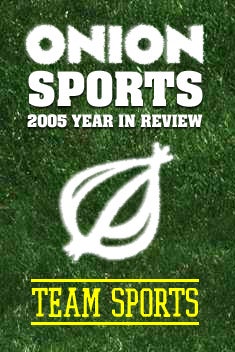 The biggest sports stories in 2005 were not always the best. Yes, champions were crowned in notable fashion: the USC Trojans captured their second straight national title; the New England Patriots cemented their dynasty status with their third Super Bowl win in four years, the Spurs won a thrilling Game 7 to win the NBA championship, and neither the Yankees nor Red Sox won the World Series. Yet many noteworthy stories went unnoticed—at least when first reported—that would prove to be among the most resonant of the year. Many such stories, such as the NHL's decision to come back for their 2005-06, or "farewell," season, have implications that will last far beyond this dwindling year. With that in mind, Onion Sports has listed the seminal moments in major team sports for the past 12 months.
Jan. 4—USC wins the FedEx Orange Bowl to claim an undisputed No. 1 ranking and the national championship, defeating Oklahoma in the first half 55-17, Auburn in the third quarter 21-9, and a combined Utah/Boise State all-star squad in the fourth quarter 17-14. Head coach Pete Carroll praised his various opponents but conceded that the BCS championship system may be in need of further tweaking.
Feb. 10—During the Patriots' Super Bowl victory parade in Boston, New England's players are greeted with joyful "Yankees Suck" chants. The same thing occurs at a Dave Matthews concert in Worcester and a Noam Chomsky lecture at MIT.
Apr. 5—The Baylor women's basketball team defeats Michigan State to win the NCAA women's championship, showing the nation and their own university what a Baylor team can do when it works hard, plays as a team, and does not conspire to murder one another.
June 25—In an attempt to show how much of a team player he is, 2005 NBA Championship MVP Tim Duncan says he would like to share the award with his teammates, with the exception of Manu Ginobli, who, Duncan said, "I hate very much."
July 28—Manny Ramirez demands to be traded from the Red Sox. After being initially rebuffed, he politely asks to be traded. He later begs to be traded, pleads to be traded, and fakes a terminal illness and says his dying wish is to be traded. When ownership still refuses, he issues a statement saying he "loves playing for the Red Sox and hopes to finish his career in Boston."
Aug. 1—Minnesota Vikings head coach Mike Tice makes a preseason promise that the character and behavior of the players on this years' team will soon make the fans forget the shameful off-field antics of Randy Moss.
Sept. 28—White Sox catcher A.J. Pierzynski, using his free hand while catching to hold a copy of The Big Fat Book Of 1,001 Insults, humiliates all Seattle Mariners batters with his distinct brand of heckling.
Oct. 17—NBA Commissioner David Stern announces that he is implementing an especially strict dress code for himself, including tailored Italian suits, handmade silk ties, custom-crafted leather shoes, and wafer-thin gold or platinum Patek Philippe watches. Financial aid is made available to allow less-affluent commissioners to conform to the new rules, violation of which is punishable by three weeks off with pay.
Oct. 24—His heart pounding a mile a minute, an exhilarated, out-of-breath, bruised and battered Steve Yzerman, barely able to contain himself after the Red Wings' nail-biting 6-5 overtime shootout victory, decries the NHL's brand of "new, uninteresting hockey."
Nov. 11—An embarrassed Mike Bibby is the only player asked to sit in the front row in the Sacramento Kings' team photo.
Nov. 14—Yankees third baseman Alex Rodriguez wins the AL MVP award for the second time. A-Rod tells a group of reporters, "The second one feels just like the first, in that none of my teammates called to congratulate me this time, either." On the same date, Ken Griffey Jr. celebrates having avoided injury just enough to win the Comeback Player Of The Year award.
Nov. 27—Punter Jeff Feagles becomes football's "Iron Man," having played every fourth down of 283 consecutive NFL games. When asked to comment on the difficulty of such a streak, former Oriole Cal Ripken Jr. asked reporters who Jeff Feagles was, snorting derisively, shaking his head, and sauntering aimlessly away upon finding out Feagles is a punter.
Dec. 8—Anxiety for the 2006 World Cup begins early for the United States, who cross their fingers before the seeding and pray they are not matched up against a soccer-mad powerhouse European, South American, Asian, or African team in the first round. Feelings are mixed but generally gloomy when their first opponent turns out to be the Czech Republic.
Dec. 11—The Houston Texans, searching desperately for a way to improve and threatened by the potential for awfulness displayed by the Green Bay Packers, voluntarily forfeit the remainder of the 2005 season in order to draft Heisman Trophy-winning running back Reggie Bush of USC.
Dec. 12—USC Trojans running back Reggie Bush announces that he has done much soul-searching and has decided to stay in school in order to complete his college degree, lead the Trojans to another national championship, and avoid playing for the Houston Texans.